Teaching Lace
I am also available to teach one off classes, weekend or longer residential courses in traditional bobbin lace, and lace design. Suitable for groups of up to 14 dependant on room size. Courses can be tailored to your requirements.
Derby Evening Class
An evening class in bobbin lace, held in Friar Gate studios every Tuesday 6pm-8pm (term time). Class suitable for all levels, individual tuition for all abilities. Cost £10 per session paid in half term blocks. (usually 6 weeks)
6 Friar Gate Studios
Ford Street
Derby
DE1 1EE
United Kingdom
Nottingham Bobbin Class
A regular monthly class is held at Sherwood Community centre, Mansfield Road, Sherwood, Nottingham on the second Monday of each month, teaching from beginners through to experienced lacemakers in all areas of Torchon, Bucks Point and Bedfordshire bobbin lacemaking. The only prerequisite being the desire to learn bobbin lacemaking and to enjoy the sometimes challenging process. The class experience varies widely and all levels catered for. For further details please contact. Classes restart 11th September 2023.
The class will run from 10am to 3pm, ad individual month sessions can be booked through the website shop, meaning you only need to pay for the class you can attend. Classes need to be booked a month in front of the date, but late bookings can be made if there is sufficient to run the class.
There is a cafe on site, and a tesco express and subway nearby.
Sherwood Community Centre
Mansfield Road
Nottingham
NG5 3FN
United Kingdom
Leicester Bi-monthly Class
I also teach a one day workshop at Whetstone Memorial Hall, High St, Whetstone, Leicestershire, once every two months
Dates for the next acedemic year - 14th October 2023, 10th February 2024, 13th April 2024, 8th June 2024.
Contact for further details and how to book.
From 1st March 2015 one day workshops have been offered at studio at Friar Gate Studios, Ford St, Derby.
Workshops will be for a maximum of 10 students, and will cater for all levels including complete beginners. Bookings now being taken for these. Cost will be £40 for the day, hours 10-4 and include drinks but please bring a packed lunch. Other dates available on request for small groups - contact with request.
The studio is on the ground floor and fully disabled accessible. Please contact before booking if you have any concerns and these can be discussed.
For more details and bookings click here
Also see Terms and conditions of booking - by booking you are agreeing to these terms and conditions as listed on this website.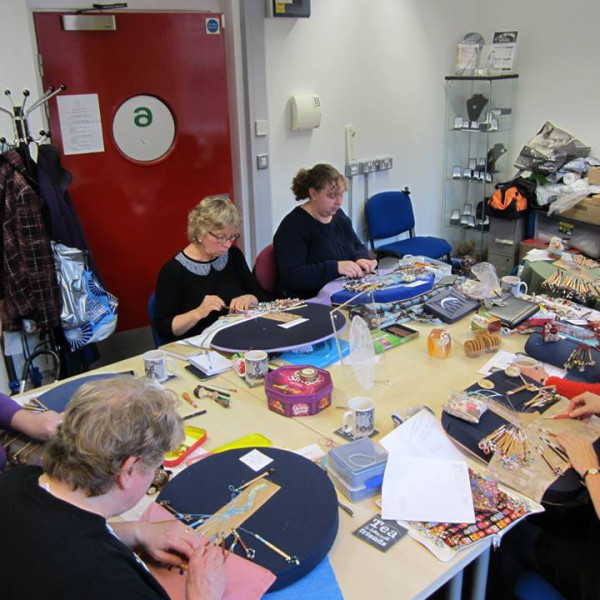 Lace Museum, California, virtual classes
Various lace classes and courses are held with the Lace Museum, Sunnyvale, California throughout the year. The classes are held online and so can be attended by anyone worldwide. You usually need two devices to fully participate in the class, one on which to watch and one over your pillow, but help can be given to achieve the best results.
See the website for more information and booking
Bedfordshire Lace Weekend
This is a two day course in Bedfordshire lace to give students a bit longer on their lace. The workshop will run 9.30-4.30 for the two days and be limited to 8 places. Tea/coffee will be provided but you need to bring your own lunch or buy something locally. The course will be held at Friar Gate Studios in Derby. Next year's dates are 26th-27th August 2023
Cost is £80 for the two days.
For booking online click Here
Also see Terms and conditions of booking - by booking you are agreeing to these terms and conditions as listed on this website.
Missenden Abbey
New Weekend course in Bucks Point at the Missenden School of Creative Arts
7th-9th August 2023 - 3 day summer school suitable for all levels in Bucks point and Bedfordshire (and other laces by agreement)
This is 3 day course focusing on Bucks Point lace and Bedfordshire, both geometric and floral techniques, with individual tuition to work on your own project, or start something new. The option of designing or adapting patterns is also available, and the pattern can be supplied before the course by contacting the tutor. Throughout the weekend teaching will be through individual learning and group demonstrations of techniques as appropriate.
For more info and booking - contact Missenden Here
Elaine Armes - "Thank you again for coming and giving us such a delightful course. We all learned something and enjoyed ourselves immensely. The angels and small patterns were beautiful and I look forward to making my Bucks point one very soon." Brigantes Lace Group Sept 2016
Maureen Allen - "Louise helped me complete my first pattern design in Bedfordshire. To say I was nervous about it was an understatement and my mind was a blank as I feel I lack creative vision. Louise helped me choose a single design element that I found attractive, then she showed me how to build up the layers adding other elements of Bedfordshire into the design to balance it out and 'fill' the space. I was so proud of the pattern when it was complete. Thank you Louise, I will definitely have another go at a pattern." Lace Guild summer school, North Wales 2016
Jo P. "A superb beginners class, just what I needed to get me started"
Julie B "I would highly recommend Louise as a teacher"
David M "class size ideal - not too many on it"
Pat B. "Fantastic lace workshop, small numbers, bright airy room, plenty of help. Please arrange another one."
P.A.L. "Sept. Fab needlelace w-shop with 1 to 1 tuition. What a way to learn a new type of lace, thanks Louise"
Melanie T - "Highly recommended for all ages, I'm 18 and I have learnt so much in my 4/5 lessons so far!! It's great to learn something so delicate and beautiful."
Emma - "great class for any level, even the complete beginner"
Dawn Threlfall - "The weeks course was informative and taught with the individual attention we needed. I have never attended one of Louise's courses where there was not endless laughter and giggles. No matter our level of lace making, you gave us the encouragement and confidence to attempt our next pattern. Lace Guild Summer School, 2016
Sally Smiddy - We would like to say an enormous thank you to Louise for coming down to Hertfordshire for the 1st Lace & Sparkle weekend teaching Bedfordshire Lace. All who attended commented on Louise's knowledge and her inspiration to progress. Everyone went home happy and looking forward to the next weekend in October. July 2016
Becca - "Very rewarding - great sense of achievement at the end of the day. The beginnings of a new lacemaker"
Jean - "It was very interesting, almost addicted to it during the lesson"
Joyce - "Interesting and knowledgeable class that improves your fashion history interest"
Melanie - "Was brilliant, amazing teacher and loved the class"
Kate W - "Would highly recommend workshop - learnt lots of technique with many applications, inspirational and in a lovely setting"
Mel B - "Learnt to work exquisite lace from the beginning with a teacher who is approachable, knowledgeable and speaks with clarity"