Laser
Successful crowdfunding launches digital patterns
The idea came from working with a laser cutter in university during my BA course back in 2006, but it is only now I have the knowledge and experience from teaching, and publishing designs, to see the potential of this and how it could benefit many people worldwide.
I have seen the problems that students face in struggling with the preparation, when all they want to do is get on and make lace. Pricking patterns carefully and accurately is a very time consuming process and one that puts off many people. They rush the process, make an inaccurate pricking and then their lace is not as good as it could be. I have spent many hours in trying to produce a good pricking (and still sometimes not getting it as good as I would like). Some patterns such as the large collars that I have done have taken up to 20 hours to make the pricking, even the smallest of patterns can take an hour or more to do a good accurate pricking. This process saves a huge amount of time on your part and gives a more accurate pricking to work with, helping to improve your lacemaking.
Book patterns
All patterns are printed with the markings and then a laser cuts the holes - ready to work. All the pricking and hard work of preparation done for you, as it says - literally ready to put on the lace pillow and start working. The benefits are time saving but more importantly an accurate pattern produced from a digital file, giving you a highly accurate pricking. This reduces the human error of preparation and helps overcome many of the difficulties often experienced in the preparation stage. Includes A5 postcard shown, supplied in biodegradable bag and posted in card backed envelope.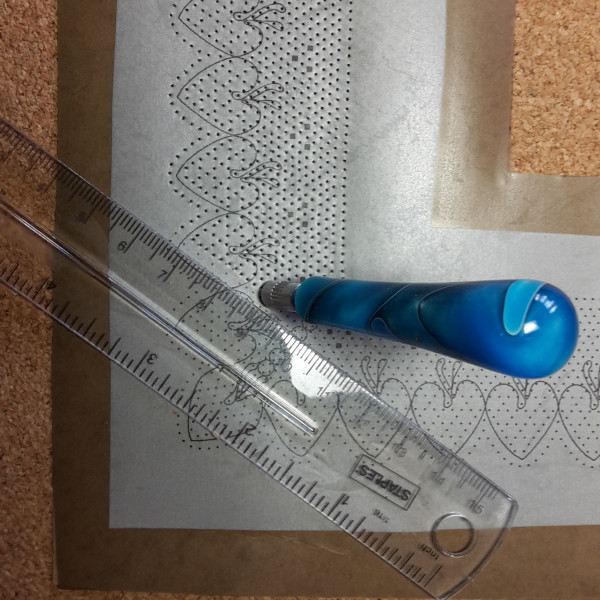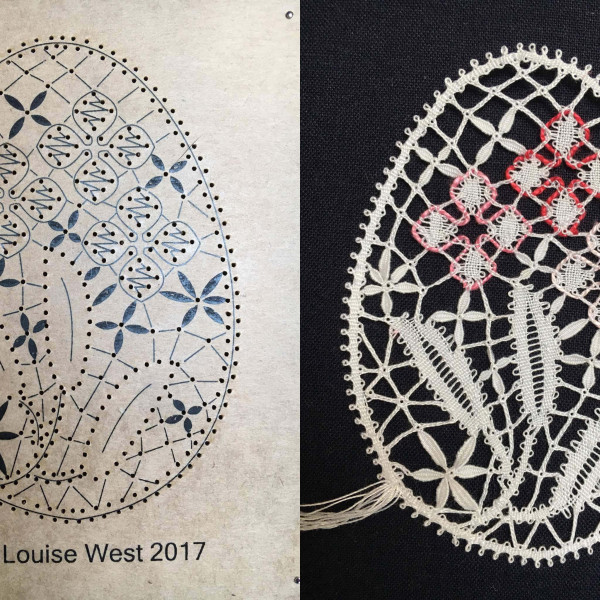 Crowdfunder and how it worked
The crowdfunder raised money to buy the necessary equipment to produce from the digital file, an accurate and ready to work design pricking, initially from my own published designs, but ultimately to offer the service to other designers, and lacemakers own patterns.
The money went towards buying the laser cutter, laser printer and associated software, enabling the process to create the ready to work designs. Rewards were offered, giving the opportunity to have the first ready to work patterns off the laser cutter and also the opportunity to experience it first hand, with the chance to create your own design, amongst other exciting rewards. 84 People backed the project, which along with a small grant from the ERDF enabled the project to become a reality.
Crowfunding campaign video
The future
Lacemaking is a heritage craft and by using technology I hope to engage more younger people into the craft, prolong the participation of existing lacemakers, and help to ensure the craft survives for future generations.
Success!
The laser cutter and associated equipment were installed in May 2018 and production commenced during the summer. The patterns will be launched at the Fenland lace Fair on 6th October 2018 and available online from 9th October 2018.
Supporters
A huge thank you to the contribution you made to this project.
Alison
Alison Gibbs
Ann Allison
Anne Newton
Anne Wassell
Antje González
Athene Frisby
Beth Marshall
Beverly Swain
Bonnie Laros
Carol Quarini
Cheryl Field
Chrissy Newby
Claire Gordon
Dawn Howell
Deborah Stone
Elisabeth Björklund Böhler
Fiona Williams
Gabriele Patzner
Gail Baxter
Gemma Hoyes
Gill Stafford
Edwina Berridge
Heather Harris
Helen Morrell
Ian Morgan
indigocarole
Jackie VDZ
Janet McGoldrick
Janet Ward
Jennifer Hayes
Jo Fleming
Jo Firth
Julia Matthewson
Julie Browett
Julie Enevoldsen
Julie Smith
Julie Varo
June Salmon
Justyna Sergiew
Kate Patience
Katy White
Kaye Booth
Kim Kerry
Kyrie Maxfield
Lesley
Libby Inglis
Linda Legrand
Linda Thomas
Liz Parkinson
Lydia Bend
Lynn Korczak
Margaret Garlick
Maureen Rowe
Michelle Long
Pat Hallam & Pam Sharples, Roseground
Paul Bassi
Pauline
Pauline Seymour
Pittsburgh Lace Group
Rita Nelon
Ros Jenkins
Rose Dee
Rosemary Horr
Sally Smiddy
Sandra Muir
Sara Marshall
Sarah Gandy
scwoodhead
Scilla Stevenson
Shannon Tague
Sheila Hewitt
Shirley McFarland
Sue Smith
Sue Baines
The Five Cat Household
Tracey Spurgin
Tricia Austin
Valerie Hunter
Victoria Brown
Plus 5 anonymous donors.